UPCOMING EXHIBITION
Andrew F. Dailey, Drawn Through
Mark T. Wiesner, An Orchestration of Movement: Sculptural Mark Making
Both exhibitions are on view October 16 - November 17
Reception: Thursday, October 19, 6 - 8pm
Hours for the exhibition are Monday through Thursday, 9am - 9pm; Friday, 9am - 6pm; and Saturday, 9am - 3pm. Rosewood Gallery is sponsored by the City of Kettering Parks, Recreation and Cultural Arts Department, with support from the Kettering Arts Council and the Ohio Arts Council. The Gallery is located in the Rosewood Arts Centre, 2655 Olson Drive in Kettering.
Mark T. Wiesner, Ribbon, mixed media, 24 x 24 x 4 in.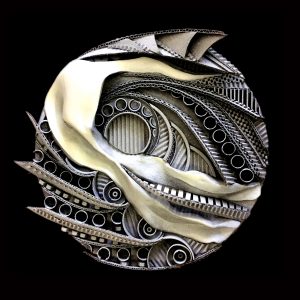 Andrew F. Dailey, Asinus Mopaed, 2013, graphite on paper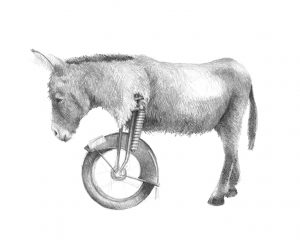 7th Annual Art Ed:  An Art Educators' Exhibition
November 27 - December 29, 2017
Reception:  Saturday, December 2, 11am - 3pm during A Rosewood Holiday Arts Festival
An annual exhibition celebrating the work of Dayton-area artists with an active teaching practice in the visual arts.