Kettering Arts Council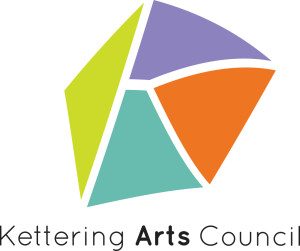 Applications for the Kettering Arts Council are now being accepted!  Download the  Kettering Arts Council Application Form or contact Rosewood at 296-0294 for more information!
Interested in e-mail updates? Want to connect with other Kettering artists?
Sign Up Now!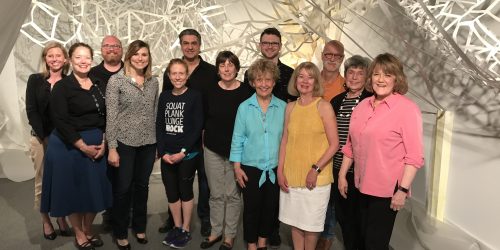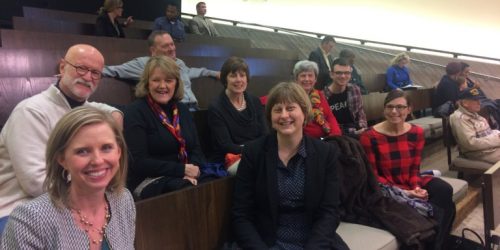 Upcoming Event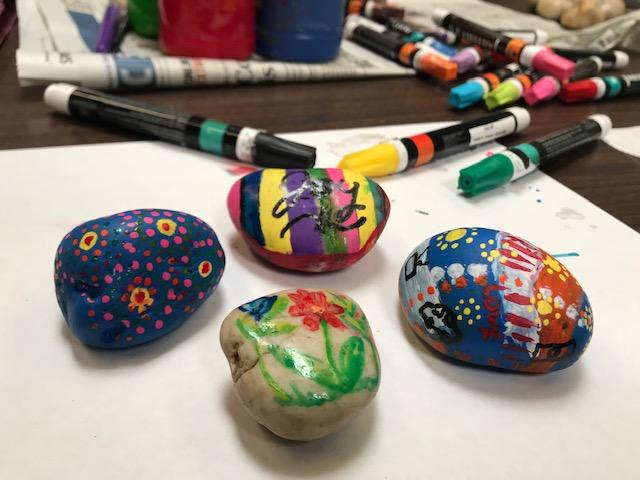 Kettering Rocks!
Make a Difference Day
Saturday, October 27, 9 am - 12 pm
Central Christian Church, 1200 Forrer Boulevard
Make a difference in people's lives! Share kindness by creating a unique painted rock with a positive message to place in your community. Organized by the Kettering Arts Council, this activity will provide you with everything you need to create your own Kettering Rocks! artwork.
NEW! The Kettering Arts Council presents The Arts Road Show, a visual presentation on the value of the arts in Kettering! The Arts Road Show is appropriate for service groups, businesses and other institutions in the region interested in learning about the impact of the arts. To learn about The Arts Road Show, contact Rosewood Arts Centre at (937) 296-0294 or email rosewood@ketteringoh.org.
Kettering Arts Council Meetings
Meetings take place every third Tuesday of the month from 5 – 6:15 pm at Rosewood Arts Centre, 2655 Olson Drive, Kettering* (check front office for meeting room). *All meeting locations and dates are subject to change*
2018 Kettering Arts Council Members
Laura Arber
Susan Bennett
Mariesa Brewster
Sue Ellen Boesch
Christian Davell
Meghan Dillon, Secretary/Treasurer
Gine Elliott
Pat Higgins, Vice President
Alexis Ignatiou
Tracy McElfresh
Thom Meyer
Pene Miller
Sandra Prell
Terry Schalnat
Shayna V. McConville, Division Manager of Cultural Arts, City of Kettering
Kettering Arts Council members Laura Arber and Susan Bennett presented to the Kettering Noon Optimists and the Charles I. Lathrem Senior Center Advisory Board recently about the rich community of arts in our city. We are proud to call Kettering home!
Past Events
Walk+Bike the Arts
Monday,  June 11, 2018, 6-8pm
The Kettering Arts Council offered a new family experience, which took place at the Kettering Block Party on Monday, June 11, 2018.
A collaboration between the Kettering Arts Council and Kettering's Bicycle Pedestrian Advisory Committee, Walk+Bike the Arts was re-imagined as a self- guided tour for children and their parents of Lincoln Park's public art. Families created a meaningful experience and were educated about Kettering's culture and dedication to the arts. B.P.A.C. gave out and fitted bike helmets for kids and the Kettering Police Department gave biking and pedestrian safety talks throughout the Block Party.
Arts Council members were stationed throughout the tour to talk about each piece and its history in Kettering. Participants who finished the tour and their passport (given at the beginning of the tour), were rewarded with a special prize pack. Everyone who brought their bicycles and/or walking shoes to Kettering's Block Party had an amazing time!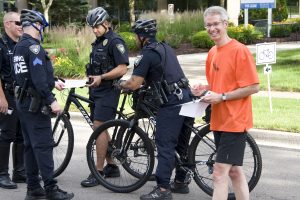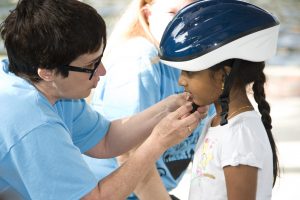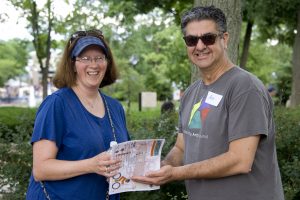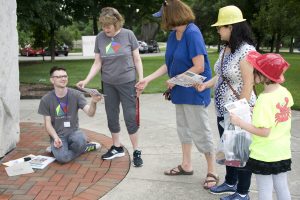 About the Kettering Arts Council
The Kettering Arts Council is a 15 member citizen advisory committee comprised of local artists, art educators, community leaders, and those who truly appreciate the arts. The Kettering Arts Council, in partnership and collaboration with the community, strives to provide access to the arts for all ages, encourage a passion for the arts, and promote art appreciation and education. The Arts Council promotes and enhances an awareness and appreciation of Kettering arts.