Rosewood Gallery
Rosewood Gallery is part of Rosewood Arts Centre and exhibits contemporary art by local, regional and national artists. We offer four group and eight solo exhibitions per year.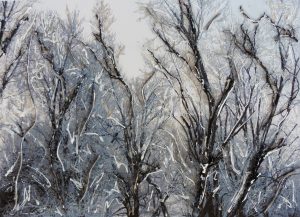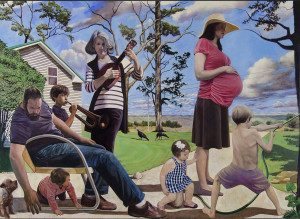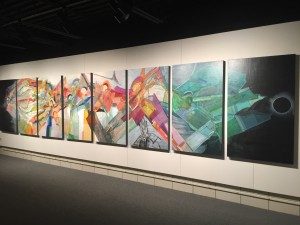 ---
Questions on Artwork or Other Information
Contact Rosewood Gallery at 937-296-0294
---
NEWS
CURRENT  EXHIBITION
Nicholaus Arnold, No One Was Having a Very Good Time and Frank Travers, What Remains
July 17 - August 18, 2017
Reception: Thursday, July 20, 6 - 8pm
Nicholaus Arnold of Dayton, OH presents a found object installation inspired by the process of caring for, and ultimately saying goodbye to, his elderly grandfather. Frank Travers, also of Dayton, presents prints, paintings and drawings, which deal with themes of fragility and decay. View more information.
Admission is free. Hours for the exhibition are:
Monday - Thursday 9 a.m. - 9 p.m.
Friday 9 a.m. - 6 p.m. 
Saturday 9 a.m. - 3 p.m.
Call for entries - HWD 2017! HWD, or Height x Width x Depth, is a juried exhibition celebrating three-dimensional artwork by artists from Ohio and surrounding states. Established in 2007, HWD is the region's only gallery exhibition focused exclusively on sculpture. Check out the webpage for details or apply now through Call for Entry.
Rosewood Gallery is sponsored by the City of Kettering Parks, Recreation and Cultural Arts Department, with support from the Kettering Arts Council and the Ohio Arts Council. The Gallery is located in the Rosewood Arts Centre, 2655 Olson Drive in Kettering. For more information, call (937) 296-0294 or visit our website: playkettering.org/gallery.
ABOUT ROSEWOOD GALLERY
Established in 1986, Rosewood Gallery is a program of Rosewood Arts Centre, a division of the City of Kettering's Parks, Recreation and Cultural Arts. The gallery specializes in the exhibition of contemporary art by local, regional and national artists and is dedicated to promoting the visual arts to audiences in the Kettering and Dayton, Ohio region. Rosewood Gallery is a total of 1800 square feet of exhibition space, offering four group exhibitions and eight solo exhibitions annually. If you would like to be added to the mailing list, please contact the Gallery Coordinator.