ArtLocal is an initiative of the City of Kettering's Cultural Arts division. Through Rosewood Arts Centre, which provides arts education opportunities, and CitySites, a percent for art program, ArtLocal is an artist-led, collaborative public art program based in Kettering's neighborhoods.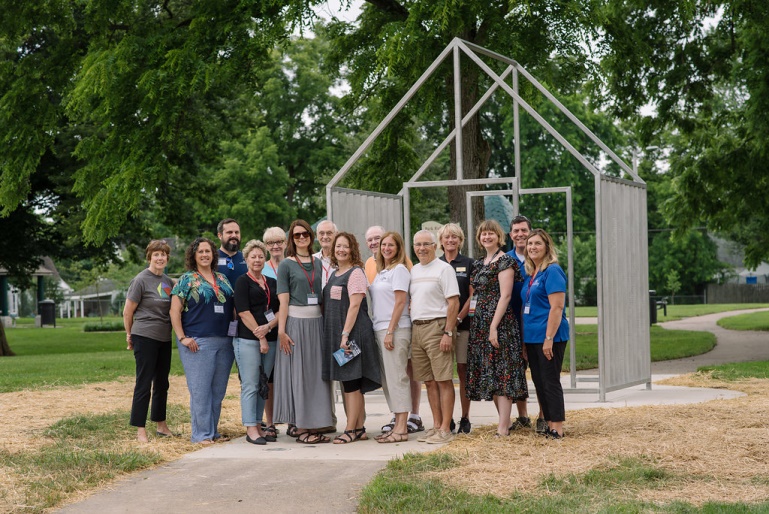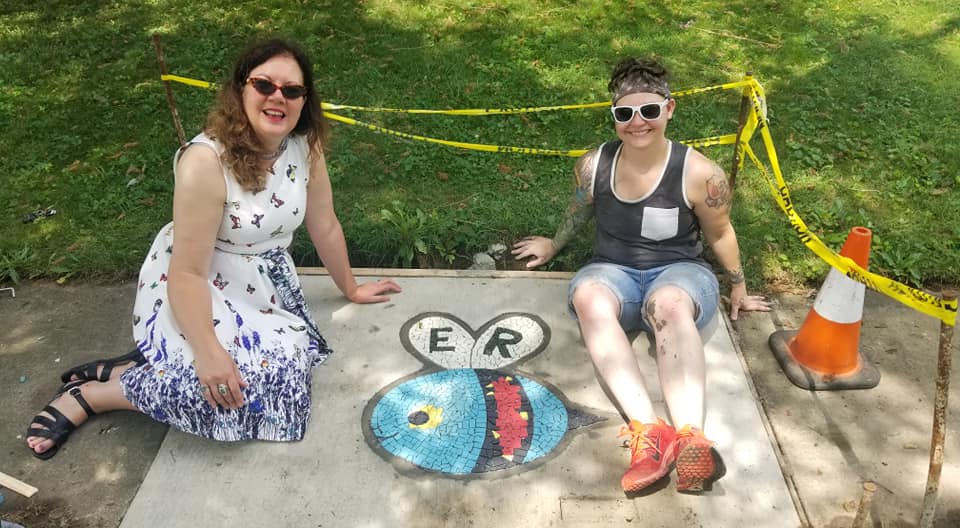 Images, left: Virginia Kistler with Kettering residents at the dedication of Mutual Homes in Oak Park; right: Holly Million of Artists United and Jes McMillan with a Bee Ambitious mosaic in the Haverstick neighborhood.
The inaugural ArtLocal project took place in the Oak Park neighborhood of Kettering, in partnership with the 2017-18 Cities of Service initiative. Virginia Kistler of Gahanna, Ohio, facilitated hands-on workshops and conversations with children, residents and veterans to capture the values and spirit of the Oak Park neighborhood. Through these interactions, Kistler's stainless steel artwork Mutual Homes reflects the meaning of home to Oak Park residents. Learn more about Mutual Homes.
In 2018-19, Mayor Patterson selected the Haverstick neighborhood of north central Kettering as the Cities of Service program area. CitySites selected Jes McMillan, founder of the Mosaic Institute of Greater Dayton. McMillan saw an opportunity to engage children in outdoor recreation through her art and address the lack of a public park within the neighborhood. With Haverstick residents, McMillan designed a series of permanent sidewalk games.  Installed in the summer of 2019, the public artwork Bee Ambitions is a collaboration with Haverstick residents, Kettering families and school children.  Learn more about Bee Ambitious.
ArtLocal is possible through the generous support of Cities of Service; Parks, Recreation and Cultural Arts; and CitySites.  Additional support for ArtLocal has been provided by the Ohio Arts Council and the Community Foundation for Kettering Fund of the Dayton Foundation.