CitySites Permanent Collection
Ohio artist Barry Gunderson created the first CitySites artwork in 2000.  Since then, CitySites has hosted an international stone sculpture symposium, added works by world-renowned artists, and made art accessible for all Kettering residents. For a map of CitySites sculptures and their locations, please scroll down.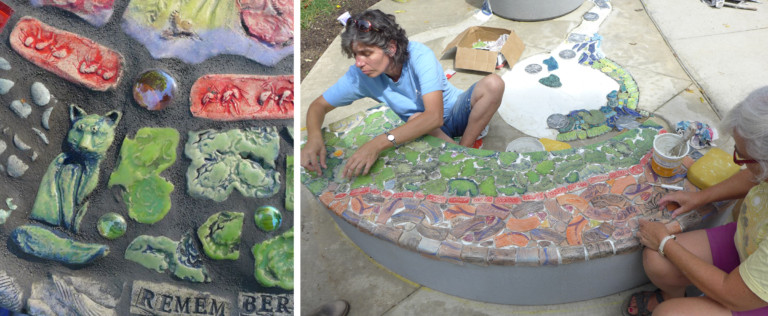 Detail of Nature's Interplay; artists Beth Holyoke and Käthi Seidl at the Habitat Environmental Education Center, 2016
Held at Delco Park, in September 2002, the international stone symposium, Kettering Rocks! was a tremendous success. CitySites and the Art in Public Places committee commissioned the project. Each of the eight international artists had 20 days to complete the limestone sculptures.
The artists' works are now installed throughout public spaces in the City of Kettering. You can view the sculptures at Delco Park, Rosewood Arts Center, Polen Farm, Governor's Place, and more.
A 24-page, full color catalog is available from the 2002 International Stone Sculpting Exposition. To get a catalog or for further information, please contact Rosewood Arts Center.